Powered By

A safety strategy for reliable components
Be On Top of the Latest Innovative Trends

OEM Industry Update is the optimal podcast for engineers and OEM product development teams. Tune in bi-weekly and uncover the latest news and technology trends impacting the design and development of heavy equipment!

Stream Now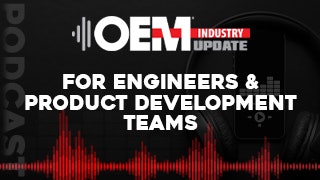 Be On Top of the Latest Innovative Trends
OEM Industry Update is the optimal podcast for engineers and OEM product development teams. Tune in bi-weekly and uncover the latest news and technology trends impacting the design and development of heavy equipment!
Stream Now
Check out the winners and honorable mentions in each of our technology categories.
With EVs quickly transitioning from the vehicle of the future to the vehicle for today, new trends are emerging to support manufacturer and regulatory goals of making EVs increasingly acceptable, accessible and attractive for a growing audience.
With sizes from 7 inches to 12 inches, the CCpilot can be deployed as a modular display platform for OEMs that build equipment of different sizes and complexities.
This industry update includes a large equipment company rebrand, an acquisition and expansion plans.